OfficeXpats has made it through the first year of Covid with gratitude to our core members and our flexible landlord. To take advantage of more remote working, Bainbridge's only coworking space has now expanded options with new private offices and more common space. This 3rd in a series about 10 years of island coworking highlights stories from two of our members.
A Flexible Environment for Entrepreneurs
One of those new private office spaces was taken by a fast-growing startup called
Ignik
, "the outdoor heat company." The name "Ignik" has its roots in unrelated languages, all relating to fire. In the Inuit language Inupiaq, it translates as "fire." In Latin it means "lover of fire," and in Old English "of or pertaining to fire." Ignik's founder and serial entrepreneur, Graeme Esarey, has been a quiet presence with an easy smile at OfficeXpats since 2019.
Graeme's inspiration for Ignik came about during an ambitious adventure with his family to sail around Alaska and on to Greenland. Along the way they discovered that many of the gadgets and standard equipment for heating and cooking didn't work all that well in the deep cold and constant exposure they were experiencing on the boat. Graeme saw the need for products that worked for all ages, to let people get out earlier and stay out longer. He also saw the damaging impact to the environment that many of these products had. Their trip goal eventually pivoted from Greenland to Hawaii, and then in 2018 Graeme started Ignik. He hired a couple of employees and started shipping product in 2019. That was also the year he became a member at OfficeXpats.
He now has over a dozen employees scattered across the globe but is committed to keeping Ignik as a Bainbridge company
.

The Collaborative Context of Coworking
In addition to helping entrepreneurs grow their company flexibly, OfficeXpats offers a way out of isolation for many independent professionals and those working remotely. Common understanding of "the water cooler effect" acknowledges the importance of random interactions at the office in creating social bonds and aiding professional development.
"Accelerated serendipity" is the coworking mantra that your odds of meeting the right person at the right time increase in the professional and collaborative context of coworking.

As a wonderful anecdote of that value of coworking, OfficeXpats is about to show up in the thank-you's for a book to debut in May 2022 by Falcon Guides, titled "
Breathtaking: How one family cycled around the world for clean air and asthma.
"
The author—and affiliate professor at the UW Jackson School of International Studies—Paula Holmes-Eber states,
"writing a book can be a lonely and never-ending project. Enter the amazing concept of coworking! We cannot thank Bainbridge Island OfficeXpats enough for the creative and supportive community they have created. Monday morning check-ins for the past five years have kept Paula accountable to complete the chapter drafts she promised."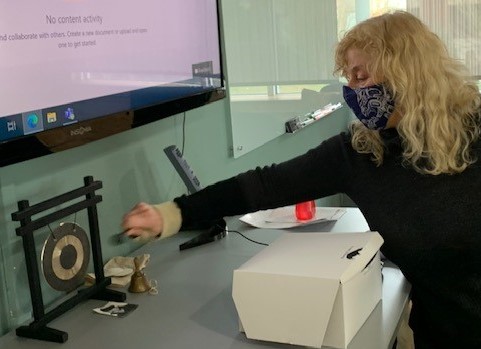 In addition to moving our stickies from TO DO to DONE on a whiteboard every Monday, we celebrate major accomplishments by ringing the gong.  The day Paula got a publisher was that kind of day.
Not only were we able to bear witness and cheer on Paula's book-writing journey but she became a charter member of the OfficeXpats Writers' Group, a Covid-adapted virtual meetup started early in the pandemic as a way for members to share encouragement on writing projects. Paula is currently out of the country on another bike adventure but has already made plans to rejoin her coworking community on her return.
Since opening in September 2011 as the first coworking space in Kitsap County, OfficeXpats has supported entrepreneurs, independent professionals, and the business community of Bainbridge Island and beyond.
In Covid times, having 24/7 access to a space away from home for productivity is more important than ever.
OfficeXpats is here for just that.
Membership:
  In what many refer to as the future of work, our members get access to a variety of managed and shared office amenities, meeting room credit, and most of all, a professional community. Flexible month-to-month full or part-time memberships means connecting to fiber-based hi-speed Internet (not Comcast) and large monitors at each desk. Amenities for body health include a choice of standing or sitting desks, a treadmill walk/work desk, a cycle desk, and a sitting elliptical. If you are interested in learning more, come by for a tour or call us to reserve a free day!
Meeting Room Rentals:
OfficeXpats also offers the wider community the ease of online reservations for meeting room rentals and event space.