Here's a round-up of community news about OfficeXpats since we opened in September of 2011.
June 2015, BAINBRIDGE ISLAND MAGAZINE: Office Space, Who's Working at OfficeXpats Started in Summer 2012, the quarterly glossy Bainbridge Island Magazine is already a beloved reflection of the rich Bainbridge culture and natural resources, delivered free to every mailbox with beautiful photography, engaging writing, and great stories about life on the island. This story of OfficeXpats takes an evolutionary approach and interviews some of our "graduates," or companies that 'grew up' at the office and then moved on when the need for a storefront or space for a larger group of employees made dedicated space appropriate. "It's Monday Morning Check-in at OfficeXpats and the Post-it notes are flying,"  and "OfficeXpats was perfect for us, flexible, fluid, and a great place for meetings."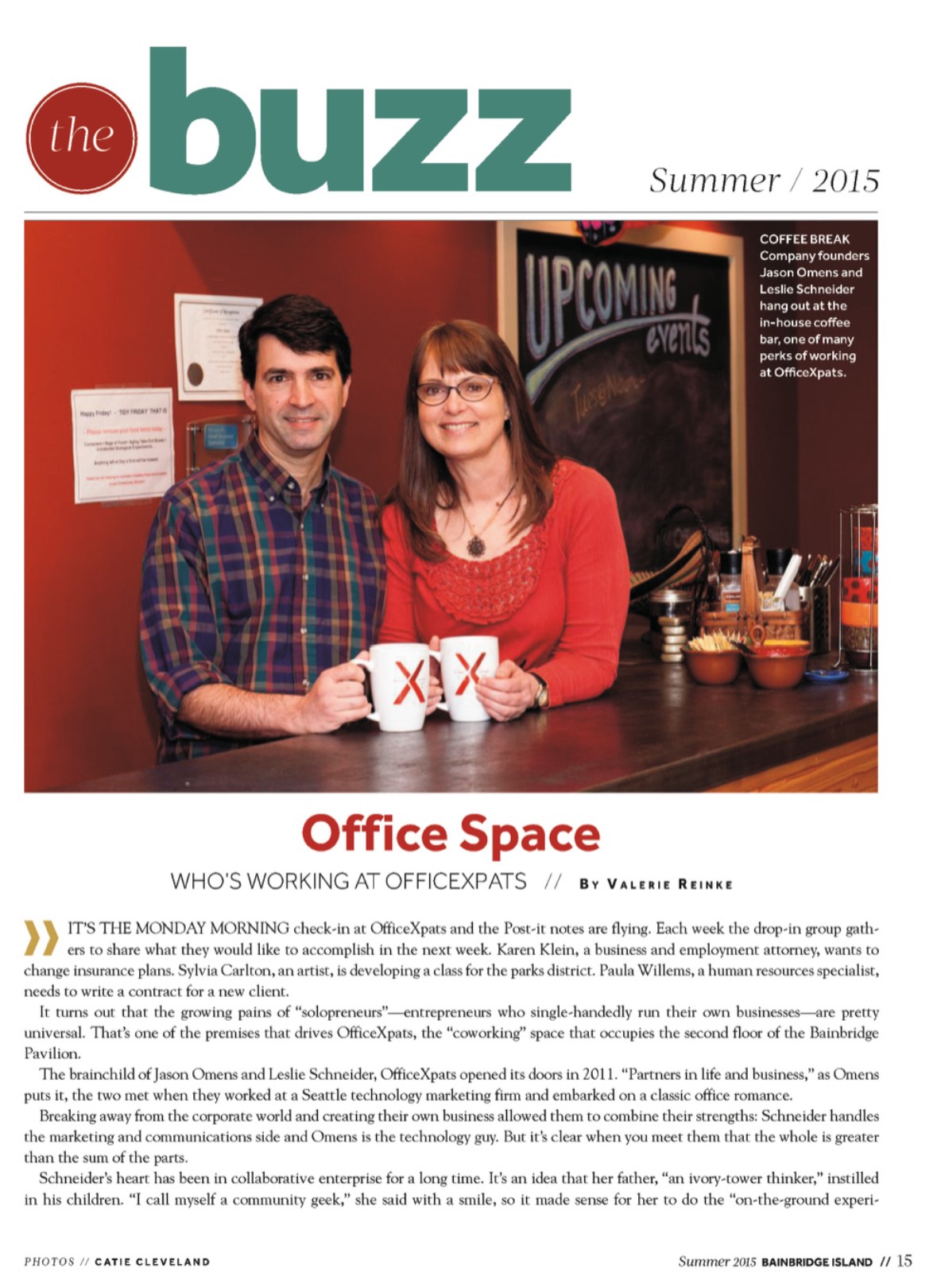 March 2015, Bainbridge Chamber of Commerce and Inside Bainbridge: At  a gala event on Saturday, March 7, the Bainbridge Island Chamber of Commerce awarded OfficeXpats with "2014 Small Business of the Year". We were one of 7 winners, with awards such as "Citizen of the Year" and the "Chairman's Choice" award. Inside Bainbridge reported on all of the winners in the article Winners Are All About Sustainability. Check out our blog about winning the award!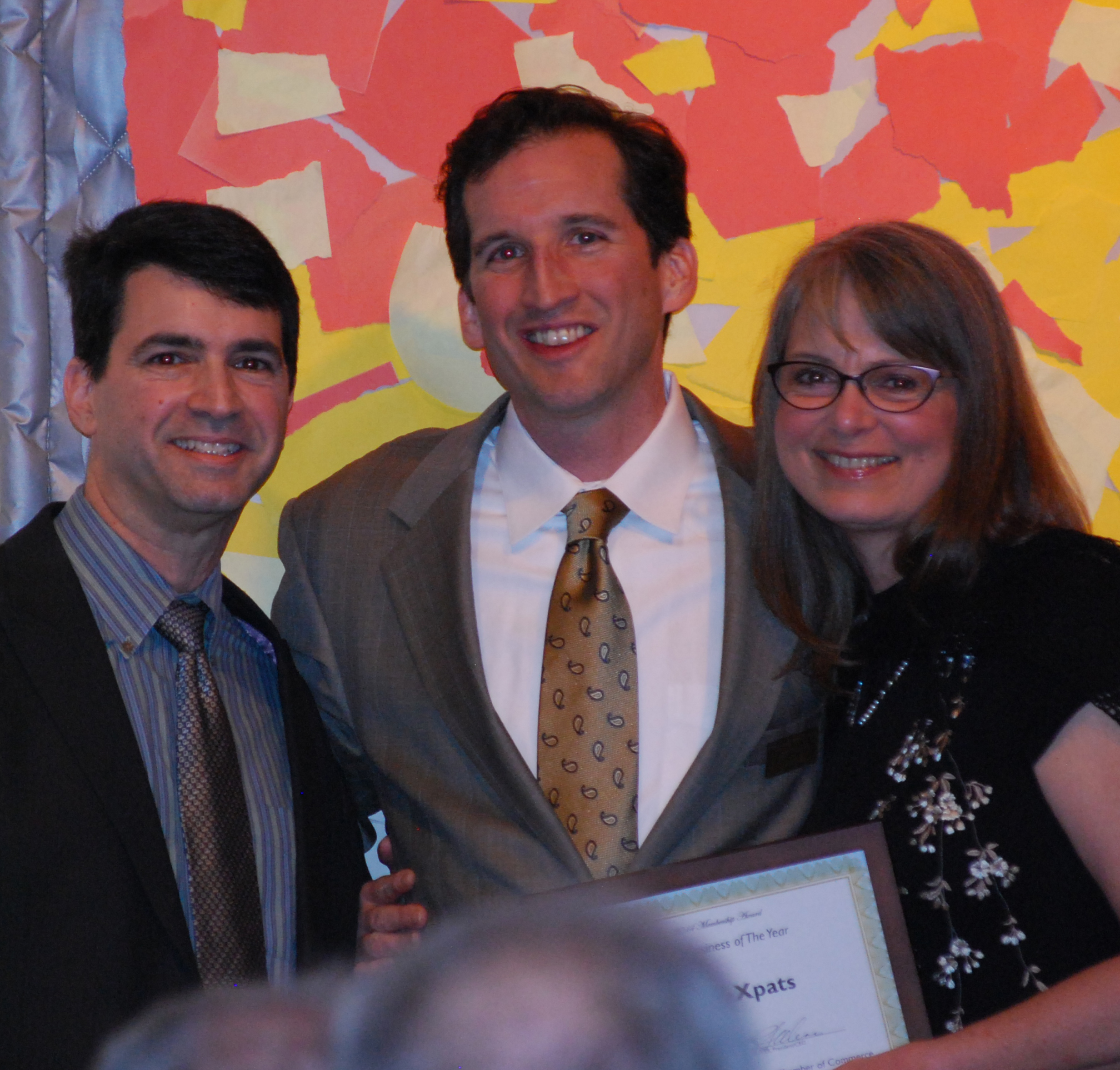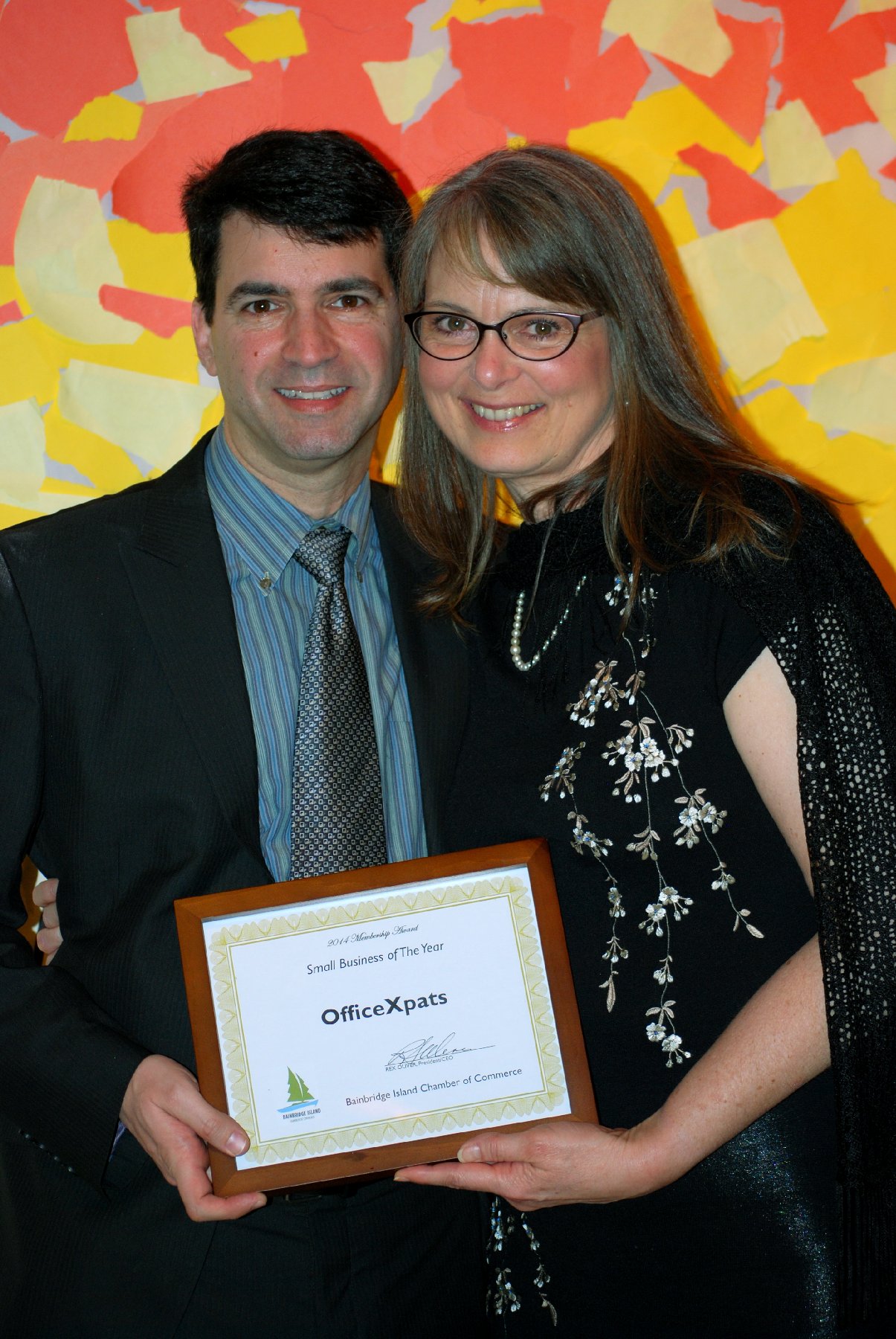 Sept 2013, KITSAP PENINSULA BUSINESS JOURNAL (KPBJ.com): OfficeXpats creates a business hub for independents Many come because of the feeling of isolation at the home office. "By working here, you get hooked into a community. It's like the working version of Cheers," Schneider said.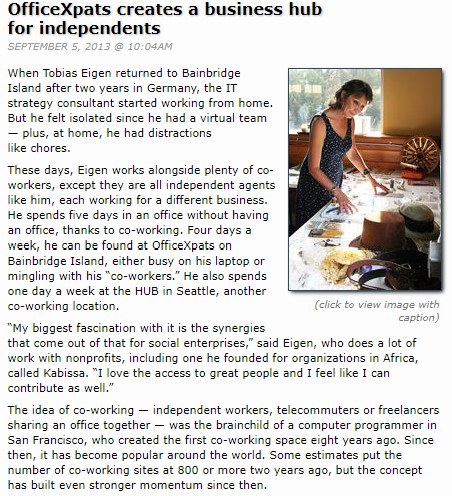 Sept 2012, INSIDE BAINBRIDGE:  OfficeXpats Completes One Year, Throws Big Party This Friday, by Sarah Lane, September 26, 2012In this article, Sarah Lane helps to promote our first anniversary celebration held on September 28, and refers to "The X Factor in OXP" as how we "give members support and tools for growing and maintaining their own businesses and ventures." And then she interviews Leif Utne, our "Xpat #1, and gets this quote: "We've got programmers, graphic designers, writers, marketers, financial experts, nonprofit managers, an HR consultant, a personal trainer, an EPA administrator, furniture designers, an archaeologist. When you mix that kind of diversity together in a common workspace, magic happens. That's how projects like Ignite Bainbridge, Accelerate Kitsap, the West Sound Time Bank and the Agate Pass Exchange were born. All because OfficeXpats created the space for them to happen." Read on!
June 2012, WSTA Event: Understanding and Controlling Web Applications - Jason Omens, co-founder of OfficeXpats, was the presenter at the West Sound Technology Association June event.
April 2012, KITSAP PENINSULA BUSINESS JOURNAL (KPBJ.com): BI Chamber luncheon features presentation on 'Future of Employment' An announcement of the The Bainbridge Island Chamber of Commerce for its monthly luncheon Wednesday, April 18, and a presentation on "The Future of Jobs and Employment" by Leslie Schneider, co-founder of OfficeXpats. (Here's a link to some excerpts from that talk.)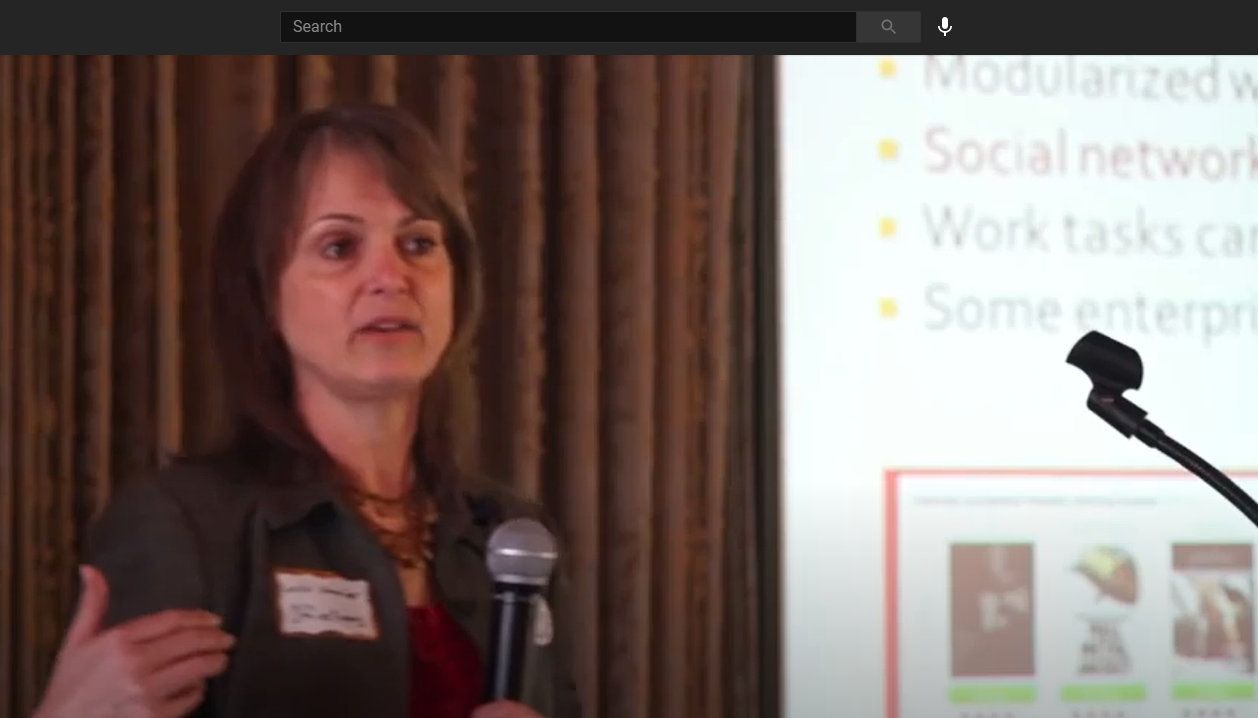 Sept 2011, INSIDE BAINBRIDGE: OfficeXPats: A Common House for Business (no current link available) Julie Hall's Inside Bainbridge article tells the story of a collaboration that happened because two OfficeXpats members "got to talkin'." Ms. Hall also captured some bigger intentions: "Calling it "a common house for business," Schneider says she sees it as a place not just for freelancers or small companies looking for more facilities than they can provide themselves. She also hopes brick and mortar businesses on the Island will use the resource as a supplemental space if they need temporary office or meeting places. Schneider and Omens also have plans to facilitate "skillaboration" among their customers: skills-sharing workshops whereby people in the community can teach and learn from one another."
Sept 2011, BAINBRIDGE REVIEW: Coworking, OfficeXpats come to Bainbridge Jessica Hoch reports in the Bainbridge Review on the origins and trends of coworking by talking to Leif Utne. "For someone such as Utne, who works remotely for a software start-up in Minneapolis called Zanby with software engineers in eastern Europe, Office Xpats provides the space he needs to make phone calls, get out of his pajamas and focus on work. A bit of a coworking expert himself, Utne has worked in spaces from San Francisco to Austin, Texas and was eager to join the new space just two blocks from his island home."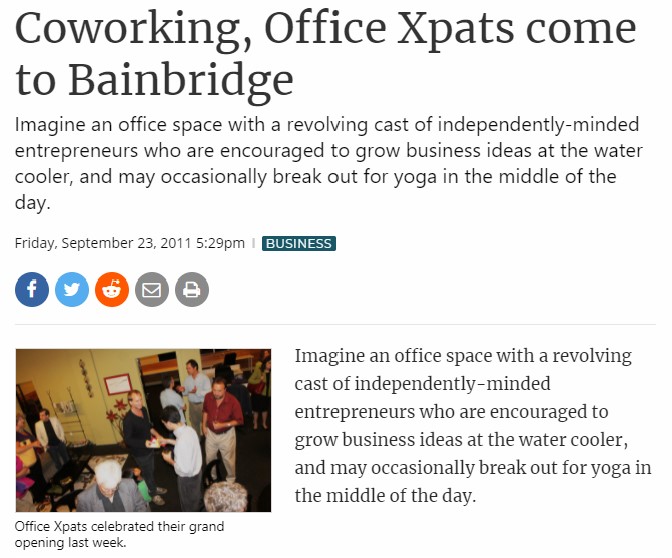 Sept 2011, Kitsap Peninsula Business Journal: OfficeXpats now open on Bainbridge Island "A new co-working and events center on Bainbridge Island recently opened on the second floor of the Bainbridge Pavilion. OfficeXpats was founded on the principles of co-working. This worldwide trend allows consultants, small business owners, and others who typically work from home to create a social community; one in which they escape from working in isolation and have the opportunity to grow professional connections."
BAINBRIDGEISLAND.COM BainbridgeIsland.com is a one-stop-site for everything related to Bainbridge Island, Washington. "We are THE source for Bainbridge Island — your premiere resource of information for everything that is happening in Bainbridge Island.""OfficeXpats on Bainbridge Island is a coworking workplace solution beyond commuting to the corporate office or working from home."Coworking is about making the personal choice to work alongside other people instead of in isolation. We offer a shared office environment that meets the conferencing and community needs of remote workers, independent consultants, entrepreneurs, and small businesses."